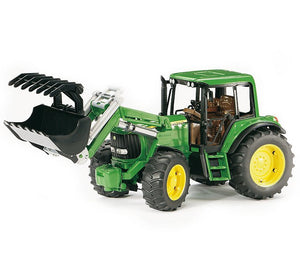 Like all tractors in the Profi series, this faithful tractor can also be equipped with twin tires (not included).

 
The off-road swinging front axle can be steered either directly via the steering wheel in the cab or via the supplied handlebar extension, which the children can put on the steering wheel through the sunroof in the cab.

 
The fully functional front loader can be easily attached and removed by removing the front weight.

 
The bonnet can be opened, giving a clear view of the engine block.

 
Tread tires complete the picture.

 
All of the numerous trailers and trailed implements of the professional series can be combined with the John Deere 6920 tractor to help the small "farmers"