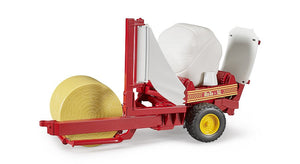 The bale is lifted onto the turntable at the front using the loading rocker.

 
After the loading rocker has been lowered, the turntable, which rotates automatically while driving, is activated, thus simulating the winding process.

 
During the wrapping process, the loaded round bale is rotated around its vertical axis with the help of the rotating structure and at the same time by means of the driven rotating rollers around the axial axis.

 
The bale is then tipped over the tilting device onto the movable storage rocker.

 
An ocher and a black round bale are included.

 
The drawbar position can be adjusted after use and tread tires complete the picture.