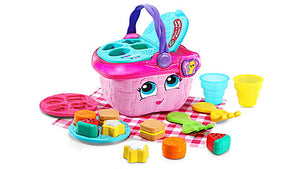 Pack a picnic for two and pretend to snack on yummy treats while exploring food, shapes and colours. Then, put the pieces back in the basket for fun on the go! 
Hear the polite picnic basket make food requests, then drop the correct food in the basket for rewarding responses. 
Drop the food pieces in the shape sorter to hear the basket recognise the food and say the shape and colour of each one. Teaches and models good manners by saying please, thank you and more.