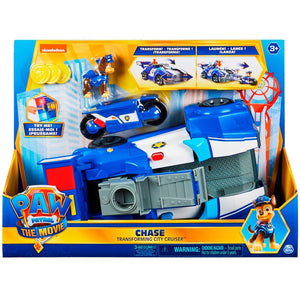 Transform, launch and save the day with Chase and his PAW Patrol: The Movie Transforming City Cruiser. This 2-in-1 police car and motorcycle brings the action and excitement of PAW Patrol: The Movie to life. It features authentic movie details and graphics, a projectile launcher, flashing lights and realistic sounds.
When Adventure City is in trouble, place Chase (action figure included) behind the wheel of his police car and race to the rescue. Once you reach the scene, push the yellow button to activate the lights and sounds. Protect Chase from falling debris by transforming into armour mode.
Press the blue button to armour up the vehicle—the front expands, a canopy covers Chase and the projectile launcher is revealed. Load the discs (three included) and press the button to launch and take down obstacles.
Need to reach a tight space in your mission? Launch the motorcycle. Simply press the red button to open the vehicle's inner compartment, then press again to launch Chase and his motorcycle. To reset, place the motorcycle back inside the car and push the wheels together to retract the canopy and launcher. Use your imagination to create your own rescues again and again.