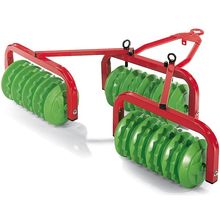 Product Description
ROLLY CAMBRIDGE DISC HARROW (ROLLER)
The Rolly Cambridge Roller has a metal  frame and 3 seperate plastic rollers.  This Rolly Toys accessory comes as 3 separate units and can be towed behind all sizes of pedal tractors.
Metal frame with heavy duty plastic rollers.
Fits any size of Rolly Tractor.
Dimensions L90cms x W 61cms x H 27cms.