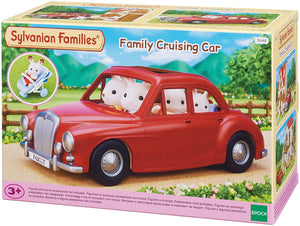 Family Cruising Car lets you remove the roof to turn it into an open-top car.

The seat of the included baby buggy can be attached to the back seat of the car and used as a baby car seat. The remaining part of the baby buggy can be stored in the boot.

The included drinks can be stored in the drinks holder or carried in child figures' hands.

A maximum of 5 figures can ride in the car (2 adult figures in the front, 2 child figures and 1 baby figure in the back (sold separately).

Sylvanian Families miniature dollhouses, playsets and figures are timeless and classic high quality toys.