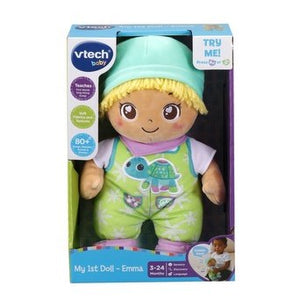 My 1st Doll - Emma by VTech is the perfect playtime and sleepy time companion. This soft little baby doll easily changes between Day and Night modes to provide the perfect friend for your little one.
Day & Night Modes
In Day mode the 2 soft buttons trigger nurturing play, fun melodies and sing-along songs and in Night mode trigger soothing lullabies and nature sounds to give your little one comfort when it's time to go to sleep.
Light up button
The cute turtle on the baby doll's clothes will light up with the sounds and melodies and will calmly fade in and out with the lullabies and nature sounds. Includes 3 sing-along songs and 40 melodies/lullabies.